About Us


School Structure
The architectural plan of Dr. Morris Gibson School reflects our belief that children benefit from learning and interacting together in a shared family environment that is rich in academic challenges and pursuits. Each pod or group of classrooms at Dr. Gibson hosts a family community of different grades. There is an expectation that older students will be mentors and positive role models to their younger friends whether they are in the Insect Pod, the Animal Pod, the Flower Pod, or the Tree Pod. Although we are a large school, these classroom pods serve to create a sense of several small school environments within the same building.
Who was Dr. Gibson?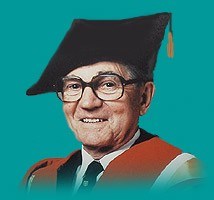 Our school is named after a dedicated, compassionate and generous man who devoted much of his life to education and the care of people.
Born in Scotland, Dr. Gibson and his wife Dr. Janet Gibson moved to the Okotoks area in 1955 to practice medicine. Numerous heart-warming and humorous stories are still told about Dr. Gibson as part of the history of Okotoks. He earned the profound trust and respect of his patients by treating them as individuals and by applying his skills as a physician to a changing world. Dr. Gibson was also an accomplished author of three best selling books that chronicled his experiences, and a close friend of best-selling author James Herriot.
We are proud to be affiliated with such a remarkable man and we draw inspiration from this well known quote from his book, A Doctor's Calling, "It's a poor day when I haven't learned something new."
May his legacy live on at this school.
Values and Vision