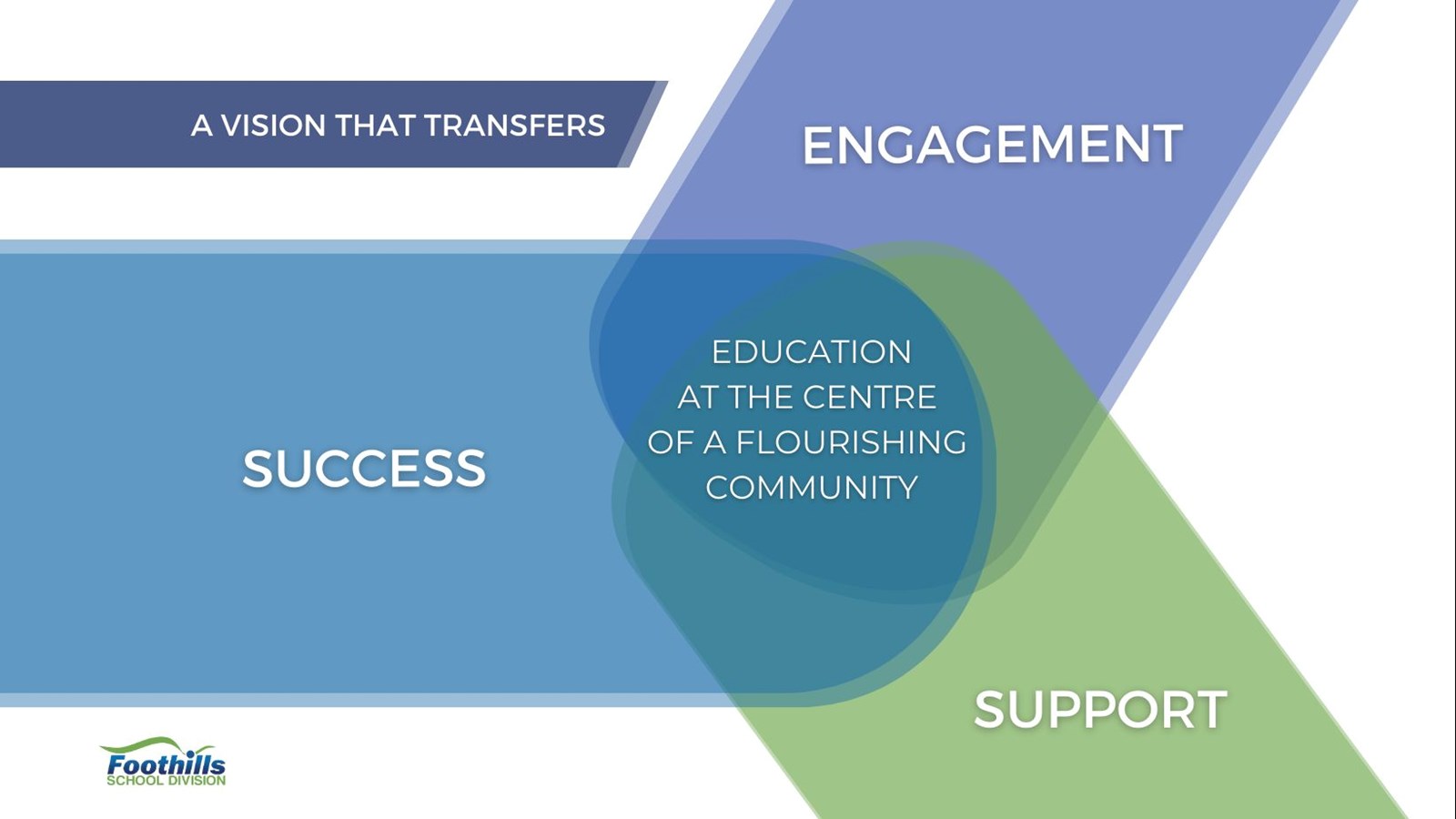 A Vision that Transfers
Engagement for Each Learner
Support for Each Learner
Success for Each Learner
Circle of Courage
Wellness
Foothills School Division continuously strives to ensure and maintain division-wide learning and working environments that are welcoming, caring, respectful, safe and inclusive. Within this overarching theme is a commitment to fostering wellness and well-being for all students and our valued FSD staff members. In prioritizing and advancing health promotion, wellness and wellbeing strategies, Foothills School Division recognizes that significant benefits for the engagement, success and support for each student and staff member can be achieved. Indeed, working together when it comes to an evidence-based approach to implementing wellness practices will result in sustainable improvements in student and staff wellness and well-being.
Team
The work of schools and school divisions if necessarily based upon a foundation of effective collaboration. This collaborative approach is a focus for Foothills School Division across all of its stakeholder groups, and guides our work daily. The work of Amy Edmondson, Professor of Leadership and Management at Harvard University, guides this work at Foothills School Division. Dr. Edmondson suggests that organizations can benefit from moving beyond 'teams' to 'teaming', and that teaming is the hallmark of a learning organization. Foothills School Division continues to work within this paradigm as part of its commitment to continuous improvement as well as to best serve the needs of students, the FSD team and the Foothills community.
Efficacy
Developing efficacy leads to success for each learner in Foothills School Division. We collaborate as a learning community to support each learner's success. Nurturing a strong culture of collective efficacy and collaboration leads to continuous improvement. We have a shared belief that through our collective actions we positively impact learner success. Together we can make a big difference. We create opportunities for learners to experience success and set-backs, share what they have learned and learn from each other. High-quality learning experiences leads to competency development and a greater sense of efficacy. Sharing and observing experiences of others also leads to increased learner efficacy, as does encouragement and support from others. This fosters Learners that are confident in their abilities, face challenge with conviction and work hard at achieving goals. Learners with strong efficacy are positive, motivated, resilient, engaged, innovative, creative, dedicated and committed to achieving success. These Learners can transfer their learning to new environments, situations and circumstances by anticipating challenges, planning courses of action and create pathways to achieve goals. Success is measured in learner improvement, growth and achievement. Strength in efficacy influences how people feel, think and act and leads to increased accomplishments and an overall sense of well-being.